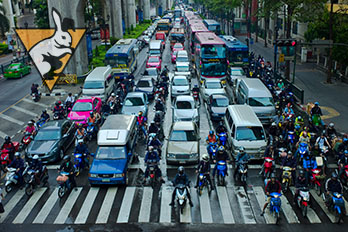 Moving in summer has its benefits, because when it is sunny and warm, we assume it will be easier to carry out removal tasks. But moving during off peak season has much more benefits and here is a list of reasons why you should hire your full service moving company or hire Rabbit Man and Van.
Affordable price
Those that are relocating normally look for moving companies that are affordable and that offer competitive prices. Once we start searching for a moving company, the moving prices play a role in choosing the company. Most people move in the summer and that is when moving companies are the busiest and offer higher rates. Therefore, if you have limited moving budget and a flexible moving date, you will shop around for the right company that will fit your budget and provide a stress-free removal. As the summer winds down, the rates go down too. Fall and early winter is the right time if you want to get a 30% lower rate. Additionally, some companies offer discounts and coupons for people who are moving off season, or in the middle/beginning of the month.
Movers have more time for you
During the fall and winter when a moving company is not too busy, it is more likely that they will pay more attention to you than they would when they are very busy during summer. They will have more time to answer all your questions. Movers are more rested to provide a service you are expecting and paying.
Movers are more flexible concerning dates
During fall and winter you will get a bigger choice of moving dates. During busy summer months, you may get your pick up date you need but choosing delivery date can be more difficult. However, during off peak season, moving companies will be able to accommodate your demands and make desired pickup and delivery dates from or to any point in Brompton, for example.
Movers are more efficient during cooler weather
It has been scientifically proven that people function and work more efficiently in cool weather than in hot. So, cool air will contribute efficiency of your movers and packers. It is a common belief that cold weather will obstruct movers and us, but cool air helps us save energy we accumulate and use it when needed. So, this is another reason why off peak season removal is a good idea. Once your movers and packers arrive, they will complete packing, wrapping, loading much faster than they would during hot weather.
Avoid traffic jams
During summer, most people are moving or travelling for vacation. So, the roads are very busy during that time and traffic jams are inevitable. Not to mention the car accidents. Although it is a common misconception that the roads are worse during winter because of weather conditions, there are less vehicles and people on the roads. Therefore, it is safer and faster to move during fall and winter than during hot summer.
If you can be flexible and choose your moving date, opt for off peak season due to various benefits you will receive. But, if you have to move during summer, make sure you hire reliable and reputable moving company that will meet your needs and provide you a positive moving experience.