If you are looking to hire renowned and seasoned man and van teams in Central London, contact Rabbit Man and Van. We are a licensed firm that specialises in moving van jobs namely in that part of the UK capital.
Central London's most experienced man and van
In an effort to provide our customers with top notch services, we work with vetted and properly trained man and van professionals. We have teams in every key area of Central London that can take your call at any moment and provide you with a free of charge instant quotation. Our moving van experts have many years of experience and they know how to:
Work in a time-efficient way
Maintain a good communication with clients
Do their job even under pressure
Execute a wide range of moving van services
We can work even with tight budgets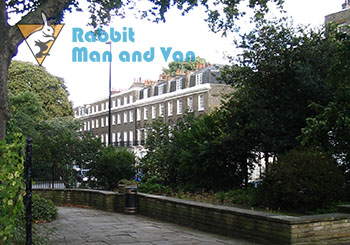 Get in touch with Rabbit Man and Van's consultants and they will help you reduce your relocation costs by offering you a custom-tailored quote. Also, if you book our man and van team in Central London on any day between Monday and Thursday, you will get an amazing mid-week discount. Even our regular prices are moderate since our pricing policy is honest and free of hidden costs. Nevertheless, we never sacrifice on the quality we offer since our well-mannered and insured staff has access to professional equipment and up-to-date vans and trucks. A round-the-clock client support service and price matching solutions are also available for our Central London customers.
Reliable assistance from reputed specialists
Rabbit Man and Van is Central London's leading man and van firm and we have everything needed to prove that. Our van hire services receive outstanding customer reviews on a regular basis. Everyone who has ever sought help from us has been highly satisfied by the job we have managed to do. Our experts thrive when they are faced with a challenge and never seize learning new tricks that enable them to improve their skills and craft.
Skilled man and van movers in Central London
Safety comes first
Feel free to contact Rabbit Man and Van at any time you need a moving van solution in Central London that is up to all industry standards. Thanks to the state of the art GPS navigation equipment that each and every single one of our vehicles has, you can now keep track of the movement of your goods in real time, and make sure that the best and swiftest route to transport them from point A to point B is chosen. We will treat your items with utmost care and respect. Our packing methods and supplies guarantee that nothing bad happens to them while they are being moved, thus strengthening your own peace of mind. That's why we are perfect for fragile item moving jobs.
All-round moving van services in Central London
If you choose to rely on our affordable man and van services in Central London, you will get access to a comprehensive selection of additional services. Our competent and attentive team is trained not only to plan and carry out home and business removals, but it can also be hired for things like fragile item moving or even small relocations. Rabbit Man and Van's innovative moving vans are excellent for furniture delivery since they are equipped with protection features like covers, pads, belts and straps. That is why our clients enjoy secure man and van in Central London. We have also invested in up-to-date moving vehicles that have an impressively large capacity, making them suitable for the safe transportation of bulky items like heavy beds, solid wood wardrobes or cabinets. We will send you a skilled man with van in Central London who will take care of the loading and unloading of your personal possessions and furniture pieces, enabling you to invest your time in other more relaxing and entertaining activities. In fact, we are ready to provide you with a precise estimate of your moving van costs and to schedule an on-site visitation so that you can get great value for your money.
Moving out sanitation solutions for all who need it
One of the additional options that many of our clients prefer to book along our top notch man and van in Central London services is the end of tenancy cleaning solution. If you want to make sure that you get a full refund on your rental deposit, and actually would like to avoid cleaning your apartment upon vacating it, feel free to get us on board. We will use all the right tools and supplies to fix all problems and make the place spotless.
All that needs to be done, will be
By hiring a man and van in Central London from our firm you guarantee:
The on-time completion of the job
That no strain is put on your budget
The safety of your goods while on the road
We are equipped and ready to handle even the largest and most complex relocations that you can throw our way. This does not mean we are not up to the task of handling smaller, more specific jobs either. From Ebay deliveries to fragile item moving, we are more than certain we have what it takes to cover your expectations and personal requirements fully.
We are looking forward to hearing from you
Our movers are not going to hesitate to go an extra mile in order to achieve your comfort and peace of mind. All you need to do is make the call and we will take care of everything else.
Even though the boundaries of Central London are not officially defined, it can be said that it makes up the heart of the English capital. Nevertheless, the City of London, Westminster, Bermondsey, Southward, Holborn, Stepney, Finsbury, St Marylebone, Bethnal Garden and Shoreditch are often listed as London's most central areas, thus they are usually included in Central London. Charing Cross is also used as a point that marks the centre of the city. That area of the UK capital also includes key buildings like the Law Courts, the Parliament, as well as the Royal Palaces. Central London is home to some of the most popular landmarks and attractions in the city. Among them are London Bridge, the British Museum, St. Paul's Cathedral, the National Gallery and many others. According to the latest census, there are over 1.5 million people who live in the most central districts of the English capital.
Our team of experts is set in Central London. It can be said that this part of the city is basically the heart of the English capital. This area is home to some of the most famous landmarks in the country, as well as to boroughs like Kensington & Chelsea, Westminster, Southwark, Lambeth, and others. It also features the City of London. Some of the most prestigious and expensive districts in the city are set namely in Central London and include Notting Hill, Chelsea, Knightsbridge, Mayfair, Hyde Park, Westminster, Primrose Hill, Regent's Park, King's Cross and many others.
Central London is not only the financial, but also the cultural heart of London. These parts of the capital attract countless tourists who are looking for the iconic landmarks that mark the landscape here. From Tower of London and Big Ben to Buckingham Palace and Westminster Abbey – you can rest assured that there are quite a few things to see in Central London.
Central London is generally considered to be a pretty expensive place to both visit and shop. Oxford Street and Piccadilly Street are the two main shopping streets here. The district of Knightsbridge is a prime example of how expensive Central London is – it is rather normal to have to pay over a million pounds in order to buy a regular sized apartment here. But there are other, more accessible areas in Central London to, and we will be happy to help you move there too.